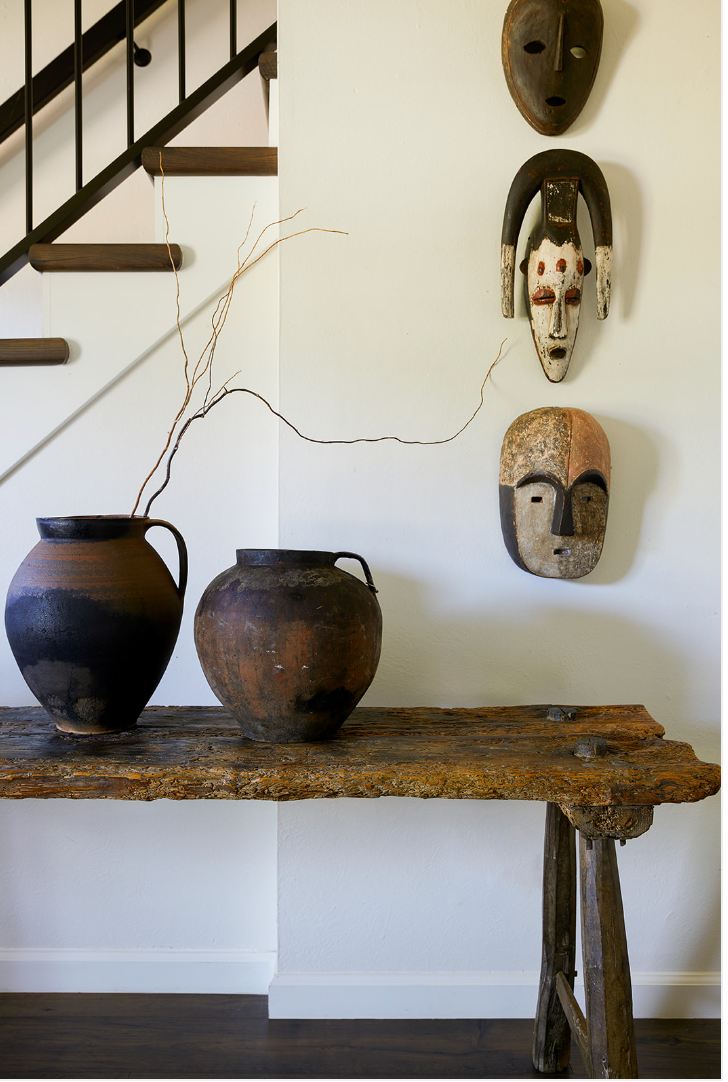 I get asked how I mix vintage with modern design to make my home feel curated. So in this post, I want to share some tips to create this look. It's no secret that I love mixing old with new. Curating my. home is one of my favorite things to do. I love finding the right vintage decor piece to add a timeless and unique feel to my house. Incorporating vintage decor into your modern home can be a creative and rewarding way to add depth and personality to your interiors. However, achieving a seamless blend between the old and the new can be intimidating. I know it was for me when I first started. 

This article will explore four essential tips to effortlessly incorporate vintage decor into your modern home. From selecting the right pieces to creating a cohesive look, I will guide you through the art of blending styles to create a harmonious and inviting space. If you are nervous about selecting the right piece to add to your current decor or just starting to explore the world of vintage decor, these tips will help you create a home that effortlessly combines the best of both worlds. Get ready to unlock the potential of your vintage treasures and transform your modern home into a true showcase of timeless beauty.
Benefits of Incorporating vintage furniture into your modern home.
Incorporating vintage furniture into your modern home offers numerous benefits. First, it adds a layer of uniqueness and individuality to your space. Unlike mass-produced modern furniture, vintage pieces have a story to tell. They bring a sense of nostalgia and charm that cannot be replicated. Second, vintage furniture is often made from high-quality materials like solid wood and genuine leather, ensuring durability and longevity. These pieces have stood the test of time and can continue to do so in your modern home. Third, blending vintage furniture with modern interiors allows you to create a well-balanced and curated space. Mixing the old with the new brings a sense of contrast and visual interest to your design. Vintage furniture can act as a focal point or conversation starter, adding character and depth to your home. Last, incorporating vintage pieces is an environmentally conscious choice. Giving these pre-loved treasures a new lease on life reduces waste and contributes to a more sustainable lifestyle.
Lola Earl's guide to Mixing Vintage Decor into your Modern Home
When it comes to mixing vintage decor into your modern home, selecting the right pieces will help you create a curated home. Here are four tips to help you make the right choices.
No.1: Understand your style
Before hunting for vintage furniture, you should take some time to understand your style and the aesthetic you want to achieve in your space. Do you prefer a more minimalist approach, or are you drawn to bold and eclectic designs? Understanding your style will guide you in selecting vintage pieces that complement your vision.
Suppose your design aesthetic embraces modern architecture and layers on natural and organic materials to create a comfortable, effortless feel. It gives a unique aesthetic and comfort with simplicity, using texture and layers, natural elements, and a neutral color palette. Modern Organic might be the aesthetic to try. Look for items such as vintage wood stools and clay pottery, and mix them with your modern sofa or jute rug.
Shop the Look
No.2: Consider functionality
Second, Think about how you want your home to feel and how you plan to use the item in your home. For example, a sofa table can be used as a nightstand, and a dresser can be used as an entry table by your front door. The beauty of vintage decor is that you can use it for a different purpose than intended. Another way to consider using vintage with your existing decor is to mix and match. You can add vintage dining chairs to your modern dining table. I want you to feel confident to layer vintage clay vessels with a vintage lamp on your current console table. Sometimes it is trial and error to define how you want your space to feel and look. But you got this. 
Trust me, I have been there. My style has changed significantly over the years as I define my design aesthetic and how I want my home to feel and look. But the more you trust your designer gut, the better you will become at creating a curated home. 
No.3: Mix materials and textures
Third, experiment with mixing different materials and textures to create a harmonious blend of vintage and modern. I'm sure you have pinned many pictures on Pinterest of mixing texture and layers to create a cozy home. If you are still pinning without trying it in your home, I want today to be the day you try it. Below are a few tips to try today to achieve this look.
1. Find Common or similar colors. I like using earthy tones like ivory, taupe, cream, black, gray, and brown. I think using color schemes within the same color palette makes it work.
2. Create a visual balance. Use different sizes of decor to create balance. Think of pairing a mirror with a piece of art and a vase.
3. Provide contrast by using light and dark shades of color. Using lighter and darker shades of colors. Think of paring dark brown with a creamy white and deep green.
4. Please don't think about it. Finding work best with others is often a matter of trial and error. So feel free to try a few combinations to find the one that works for you.
So, now you know how let's apply these principles to create a curated look in your home. For instance, could you pair your modern sofa with a vintage coffee table made of reclaimed wood? Easy right. Now let's continue to add layers. You can add a few home decor books and a vintage clay vessel for flowers or my favorite branches to style your coffee table. Add a candle, and done. This combination of materials adds visual interest and creates a balanced yet modern look.
No.4: Don't be afraid to mix styles
Forth, Mixing styles is key to achieving a seamless blend of vintage and modern. This step might freak you out, but please don't be. Embrace it.  Mixing in different eras of styles will provide you with a home of your own. Truly providing you with a curated home that you will be proud of. So, please add a primitive stool next to your mid-century chair. Add a modern lamp to your reclaimed wood console table. The key is to find common design elements or color schemes that tie the pieces together. You got this. If not, re-read the third step above and go for it. 
In conclusion, mixing vintage decor into your modern home is an art you can create. Following the tips outlined in this article, you can seamlessly incorporate vintage pieces into your space, creating a unique and curated home that celebrates the past while embracing the present. Remember to choose vintage decor that aligns with your style, mix materials and styles thoughtfully, create a cohesive color palette, and distribute vintage and modern pieces evenly throughout your rooms. With these strategies in mind, you can create a harmonious balance that showcases the best of both worlds. So, embark on your design journey, explore the world of vintage furniture, and let your creativity shine as you artfully blend the old with the new in your modern home.
We have compiled some of our favorite items to help you create this look. Visit lolaearl.com to shop home decor items that will help you create this look.
Every home tells a story. Write yours with Lola Earl